Renovation Team: Your Premier Choice for Gutter Replacement and Protection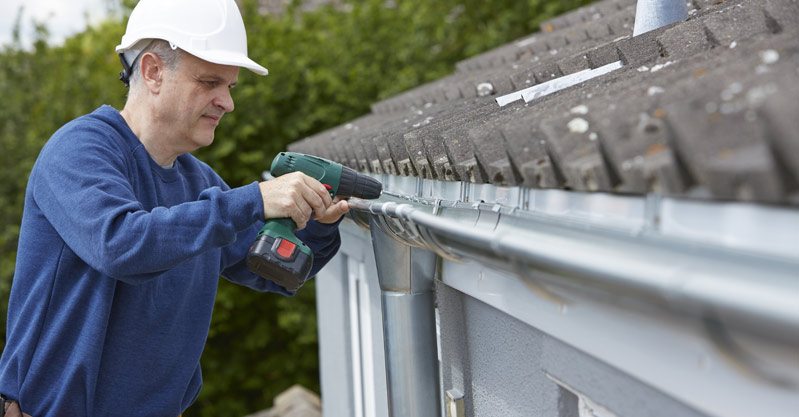 After years of successfully roofing homes in the metropolitan area of St. Louis, we know our roofing systems do an excellent job of keeping the elements from entering your home. But when rainwater and snowmelt rolls off your roof, it needs a place to go without causing damage. That's why the experts at Renovation Team (formerly Midwest Contractors), always recommend installing a sturdy, well-designed gutter system.
This system is made up of several different pieces that safely channel rain and snow from your roof, down the side of your house and to the proper place. Renovation Team handles gutter installation with top of the line materials that provide lasting protection and blend seamlessly into the roof design. We ensure that they are tightly fastened under the roof's drip edge, along with downspouts that are tough and wide enough to handle the expected water volume.
The Dangers of Ignoring Your Gutter System
Like every other external component, gutters need maintenance lest they get clogged by leaves or other debris, and their function becomes compromised. This often results in overflowing water that may pool on the roof or around the building's foundation, causing basement flooding and cracks. Backed up water in the gutter troughs also leads to mold growth and attracts pests. That's why it is vital that your gutters stay clear and free-flowing.
At Renovation Team, we know too well the hassles associated with climbing up the roof to clean the gutters, which is why we install durable gutter screens that will keep out dirt, leaves, and debris, and save you the rigours of doing it yourself. This premium protection system ensures that your new gutters can channel water where it belongs – safely away from your home.
Get a FREE Quote Today!
We offer flexible financing options so you can get started on your project right away. Give us a call at (636) 939-1061 for a FREE assessment and quote on your gutter installation and protection needs. You can also fill out our contact form and we'll be sure to get back to you in no time.