Fiber Cement Siding: Durable Protection for Your Home
For an innovative alternative to traditional vinyl siding, consider the many advantages of James Hardie® fiber cement siding for your home. Fiber cement siding looks nearly identical to wood, with none of wood's shortcomings. It's more durable than wood, and costs less than brick and cedar siding options. Fiber cement's durability stems from its unique composition: a mixture of cement, sand and wood fibers which can then be molded into any style.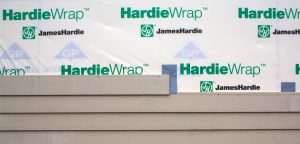 Benefits of Fiber Cement Siding
As the world leader in fiber cement siding, James Hardie's siding and trim products are trusted for their long-lasting performance, even in challenging conditions. Here are more benefits of James Hardie fiber cement siding.
Durability. Due to the nature of fiber cement, James Hardie products won't warp, shrink or rot, and insects can't damage them.
Weatherability. James Hardie siding endures the worst weather, including hail. It's also non-combustible and will not burn or melt when exposed to heat.
Value. James Hardie's ColorPlus® Technology results in a baked-on finish that is beautiful and lasts up to two times longer than field-applied paint.
Warranty. All James Hardie products include a 30-year product warranty that is transferrable, plus a 15-year finish warranty that covers both paint and labor.
Replace your old siding with durable James Hardie fiber cement siding and enjoy the many advantages of this unique product. Renovation Team is proud to provide expert fiber cement siding installation for St. Louis homeowners.
Call for a Quote on Fiber Cement Siding
Call Renovation Team today at (636) 939-1061 or submit our online form to discuss your siding installation project. We can supply you with specific product information, samples and a FREE quote. Renovation Team is rated A on Angie's List and A+ by the Better Business Bureau. We are confident that our team will far exceed your expectations!