Free Assessment
Has your home in St. Louis, St. Charles, or the St. Louis metropolitan area been impacted by a recent hail storm? Has your home suffered wind damage or water damage? Has your house been damaged by a fire or by a tree or other object falling on your home? If any of these things have happened to your home, let us be your trusted renovation team to protect and enhance what is often your largest investment, your home. We can offer a free assessment to help you determine the extent of the damage. We can also advocate for you to help you understand the insurance claim and restoration process and to help you get what you deserve from your insurance coverage to restore your home.
Advocate for Homeowner
Our role is to serve as your advocate with your insurance company to provide our expertise in insurance restoration and home renovations to help you get everything you deserve from your insurance coverage in the event of damage to your home due to hail, wind, water, fire or a tree falling on your house. We work with you, your insurance adjuster and your insurance company to gain agreement to your benefit on the full scope of work. This means the items covered, the quantity of work to be done, and the quality of work to be done. For example, the right quality work for a new roof after hail damage goes beyond the shingles to include quality protection under the shingles, such as the right underlayment, ice & water shield and flashings to prevent leaks.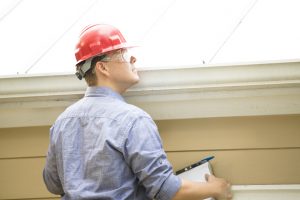 You want to be sure to work with a contractor who does not cut corners or cut costs at your expense and at the risk for your home. We will be your advocate to get the right quality work and the right amount of work done the first time for any insurance restoration project to protect your house and to protect the value of your home. We use the same estimating software used by insurance adjusters so we can work on your behalf to gain agreement on the final scope of work, comparing our scope of work with you to the scope of work provided by your insurance company before starting any restoration on your home.
Signs of Damage after a Hailstorm
Here are some of the things we look for when inspecting your home for damage after a hail storm:
From the ground:

Dents or damage to downspouts and gutters
Damage to AC units
Dents in aluminum wraps around fascia boards
Cracks in vinyl siding, often at the bottom edge of a panel or lap

From the roof

Size of dents or damage to soft metal furnace caps or chimney caps.

We look for dents the size of golf balls or larger since it generally requires hail of at least 1.5″ diameter to cause damage to roof shingles. The soft metal on furnace caps can show if the hail was as small as coins or as large as golf balls or baseballs, that would cause further damage to a roof.

Dents in metal flashings or vents on the roof
Cracks or holes in skylights
For damage to shingles caused by hail, we look for:

Compressed granules in areas the size of golf balls
Concentrated areas of missing granules on shingles
Cracked shingles
Edges, sides, or corners of shingles that are damaged or missing
Missing shingles
Amount of damage within a 10′ x 10′ area as well as on multiple slopes on a roof

Insurance claim Process
If your home in St. Louis, St. Charles or the St. Louis metropolitan area has suffered damage that may be covered by your homeowners insurance, here is how the process might proceed:
Invite us to come out for a free assessment
Sign a "subject to agreement" to allow us to discuss the scope of work and pricing for any work on your home with your insurance company. This is no obligation to you since it is subject to the approval of your insurance company prior to any work starting on your home.
Contact your insurance company to ask to have an insurance adjuster come to inspect your home

Invite us to join your insurance adjuster during this inspection to serve as your advocate

Provide us with a copy of your insurance company's scope of work
We will create an independent scope of work
We will negotiate with your insurance company as your advocate to gain agreement on a final scope of work with the right items, quantity of work and quality of work for your home
Complete the insurance restoration work to your home, including

Scheduling installation crews
Ordering materials
Providing on site project management and quality assurance<

Handling required insurance company paperwork, including:

Addendums to the scope of work
Certification of completion
Final invoice
Payment Process
Your insurance company will typically pay you in 2 increments for an insurance claims
Actual Cash Value (ACV) = first check

Most insurance companies will send you a check upon completion of their statement of work based on the damage to your home. This first check will be for the actual cash value, which equals the replacement cash value minus their calculation for deprecation, You receive this check prior to making any repairs to your home, so you only get the value of the claim prior to repairs.

Replacement Cash Value (RCV) = second check

Once we provide proof of completion of work on your home according to the approved statement of work, the insurance company will send you a check for the full replacement value (minus the amount of the depreciated value or first check they already sent you). We provide this proof and a final invoice to the insurance company promptly so you get paid on a timely basis.
The only amount you are responsible for paying is your homeowner's insurance deductible, plus any upgrade options not covered by insurance as part of the insurance company's final agreed upon scope of work.
Roof Repair after a Hailstorm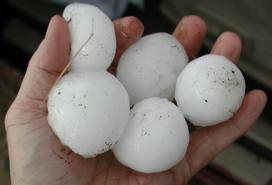 Follow this guide from NRCA to roof repair after a hail storm for more information in the following areas:
How do I repair my roof?
Selecting a roofing contractor
A professional roofing contractor should have:
Beware of a contractor:
Before making repairs
Insurance
Free hail damage information for homeowners
Other help