Your roof is a complicated system with many parts that work together to protect your interior from bad weather. If one part of your system is subpar, then it can decrease the performance of the whole. That's why, as an experienced roofing contractor, we prefer to install full roofing systems. In particular, we're proud to install the Owens Corning® Total Protection Roofing System®. Learn about its features here: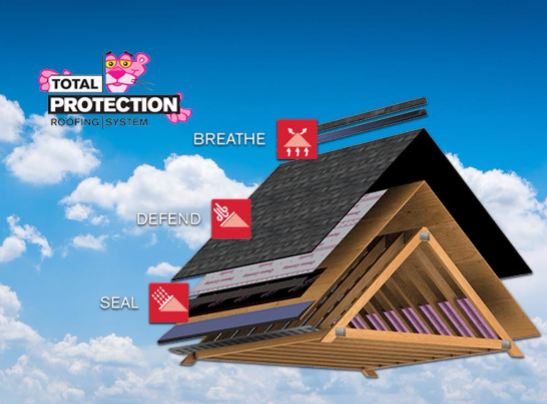 Seal
A good roof should have more than just good shingles. With the Total Protection Roofing System, your roof will have ice and water barriers along with high-quality underlayments. Owens Corning designed their barriers to protect the roof in its most critical areas, such as the valleys, vents, chimneys, and skylights. The underlayments serve as the final line of defense by blocking water from the roof deck and preventing rot, mold, and water damage.
Defense
The Total Protection System also has a tough yet beautiful layer of defense that's strong enough to resist blow-offs and helps shed water away from the roof. Owens Corning starter shingles have a continuous sealant bead that helps defend against harsh winds and water infiltration in the vulnerable parts of your roof. The hip and ridge shingles provide a finished look to your shingles while protecting the ridge vent. Lastly, their roofing shingles are strong enough to withstand any kind of weather while improving your home's curb appeal.
Breathe
A good roofing system also needs to optimize the airflow in your attic. Good airflow will reduce heat and moisture buildup that can cause mold, roof deterioration, and ice dams. The systems' intake vents allow fresh air into your attic. You can find them at the down-slope edge of the roof, also known as the eaves. Exhaust ventilation, on the other hand, allows air to leave the attic. They are near the ridge line of your roof.
In addition to our roofing services, we offer gutter installation, siding installation, window and door replacement, and home remodeling. At Renovation Team, we have many years of experience in homes of all shapes and sizes and follow a strong set of values every time we work on a project. We serve many areas in Missouri including St. Charles and St. Louis. Call us at (314) 200-2228 to learn more about the Total Protection Roofing System or you can ask for a free quote.